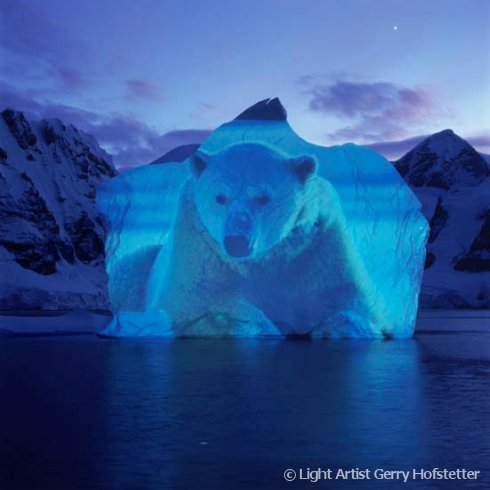 (Excerpted from
Tripping The Light Fantastic)

The 44-year-old illusionist from Zurich is a master of transformation. After 12 years working his way up through the ranks of an investment bank, he felt in need of a career change and left to become a helicopter pilot.
Hofstetter loves the idea of being able to reinvent well-known monuments, buildings and landscapes in people's minds, using his huge 6,000-watt projectors and slides to transform them into temporary art sculptures.
In 2003 he travelled to
Antarctica
as part of the United Nations International Year of Freshwater to throw light on the issue of icebergs and global warming. His images of polar bears on melting ice caps subsequently circled the globe.
"My major expedition next year is to Greenland to project some penguins in a place with the highest number of collapsing icebergs in the world."
Gerry Hofstetter, Lichtkünstler
c/o Hofstetter Marketing,
Schwäntenmos 9
8126 Zumikon-Switzerland
Tel +41 (0)44 918 72 27
Fax +41 (0)44 918 72 28
g.hofstetter@hofstetter-marketing.com
www.hofstetter-marketing.com
Read about Gerry's nuclear power plant projections on
Green Nuclear Butterly
.